Triton CG-50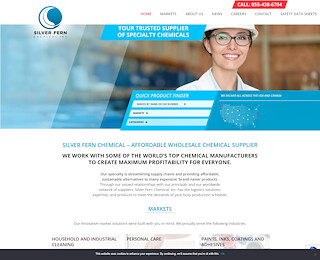 Triton CG-50 is a biodegradable alkyl polyglucoside and phosphate ester that is a hydrotrope. It is a good wetting agent that is used in secondary surfactant and is soluble in water. This special chemical is distributed by a number of different corporations, but the most reliable is our team at Silver Fern Chemical. There are a number of reasons why you should trust our team at Silver Fern Chemical. Our services are some of the most reliable in the business, and our prices are definitely some of the most competitive. We take a great amount of pride in going the extra mile to ensure our customers are fully satisfied with the services that we provide. When you count on us at Silver Fern Chemical, you can rest easy knowing that you are trusting a USA based importer and bulk distributor of industrial and specialty chemicals.
Quality Services You can Depend on
At Silver Fern Chemical, we have a close relationship with our principals, which represents both local and overseas manufacturers. We have a presence that is known locally and globally, which means that you can rest easy knowing that you are in good hands when you choose us. We have the experience and expertise that is required to help you purchase and distribute Triton CG-50 and other chemicals. At Silver Fern Chemicals, we have the power to provide packaged or bulk product either by train, air, or sea. Our shipping options include ocean containers, flexibags, and even tank trucks. From California to North Carolina and tons of places in between, you will find Silver Fern Chemical warehouses all across the United States. It is our mission to provide you with the best possible customer service experience so that you will use our services again and again.
Reasonable Pricing Plans on Services
At Silver Fern Chemical, you can expect to find some of the lowest rates in the business. Not many of our competitors can even begin to compete with the rock bottom rates that we offer. We are a certified member of the National Association of Chemical Distributors as well as a member of Indis Group Worldwide. It is one of our goals to develop long term working partnerships with our customers. With multiple stocking positions in the United States, you can expect products to be shipped to you immediately. If we don't have an item in stock, we will go above and beyond to locate what you are looking for so that we can ship it to you immediately.
Reach Out for More Detailed Information About Our Services
There has never been a better time to reach out for more detailed information about our services at Silver Fern Chemical. Our team is ready to answer any questions or address any concerns that you have about our company or our services. We strive to provide logistic excellence and superior customer service. Let our staff lend you a helping hand when you need it the most. Our team is waiting to cater directly to your individual needs.