Calcium Stearate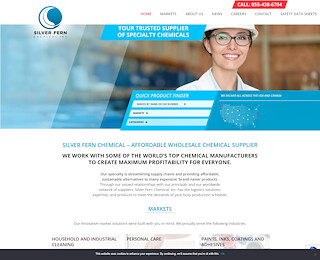 Calcium stearate is a compound for all purposes. From condition the surface of candies to creating soaps and even waterproofing, this low toxicity chemical serves as a crucial part of many processes. Silver Fern Chemicals, Inc. offers calcium stearate in bulk, acquired through our global supply network and delivered directly to your door.
What is calcium stearate?
Manufacturers create calcium stearate by mixing stearate acid and calcium oxide. The result is a waxy substance that protects products from the elements across many industries. This natural substance lubricates, protects, and acts as an anticaking agent.
How do I provide non-toxic waterproofing?
Creating waterproof clothing is a must for the outdoors. The days of wool suits are long gone. Many industrial-strength compounds are inappropriate for this market though.
Calcium stearate is waxy material that is not water soluble. With no potential downside to use, it is also one of the most popular compounds for creating waterproof clothing. Let the rain run off without creating risks for your clients and their customers.
Is a waterproof material used in making candy?
The same chemical used in soaps and clothing is used in conditioning the surface of candies. Many confectioners even use the compound as a food additive.
Since this material is not water-soluble and non-toxic, it provides a waxy yet edible coating on hard candies. This improves the shelf life of confections, allowing for long term storage and transportation. Improve the shelf life of your products and create a smooth coating on your edible delights.
How is this compound used in soap?
One of the most popular uses of calcium stearate is in soap. The material appears in a variety of soap products and similar cosmetics.
By combining with dirt and other materials in water, scum allows you to remove dirt and impurities from the skin. Soap scum appears in hard water when calcium and magnesium interact with other particles. While you don't want the material to build up in your bathroom, you also benefit from the ability to remove unwanted minerals.
What properties does my soap share with concreate?
The same compound we eat, use in our clothing, and utilize in the removal of dirt is also used as a waterproofing agent in concrete. Calcium stearate is resilient and produces no long-term effects.
As a natural barrier to the elements, the compound also acts to control efflorescence or the movement of salt to the surface of porous material. Cosmetic control is important in many applications.
Bulk chemical distributor in North America
Obtaining a non-toxic waterproof material to increase shelf life, improve appearances, and even remove unwanted dirt seems difficult. Silver Fern Chemicals, Inc. takes control of logistics and distribution. Our global network of partners allows us to offer the lowest price.
We take a challenging problem and make it trivial for our clients with custom transportation solutions. Whether by land, sea, or air, our experts work hard to satisfy our clients.
Get in touch today for more information on obtaining an affordable supply of calcium stearate.