Medium Chain Triglycerides SDS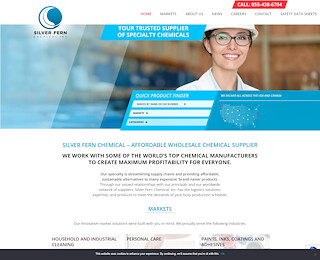 Read our Medium Chain Triglycerides SDS from Silver Fern Chemicals when you're shopping for a quality product to use in your company's formulation. MCT is an essential ingredient in CBD and THC products; finding a high-grade MCT made from coconut will give your customers confidence in the products you make and sell. Check our inventory for this and many other food-grade additives that will enable you to create a quality product that sells well and leads to customer loyalty. Reach our staff at 855-437-2442 with any questions.
5 Compelling Reasons To Purchase MCT From Silver Fern Chemicals
1. Check out Safety Data Sheets for our medium chain triglycerides and other products and compare our quality with products you're currently using or thinking about buying from another company. We know that once our customers find a reputable and reliable supplier for their products, they're going to stay with us for the long-term; we don't take lightly your decision to purchase your products from us.
2. Our team can offer you a superior customer experience when you reach out to us about MCT or any other product we carry. We'll help you determine the right amount of product to buy and select items based on your manufacturing goals. You have only to pick up the phone and give us a call to see why so many companies choose us for chemicals and products for manufacturing.
3. Our multiple US locations allow us to get your order to you quickly. For repeat customers, we'll position your must-have products in a location that's close to your business in order to shorten shipping times and get you the products you need at a moment's notice. We utilize trucks, railway transit, and air freight to eliminate logistics issues for our customers.
4. If you need hard-to-find products, we can source them for you and ensure you always have access to them; through our vast international network, we have our finger on the pulse of the industry.
5. At Silver Fern Chemicals, we understand how frustrating it can be when a supplier gets an order wrong; we go the extra mile to understand your specific needs and determine quality specs, packaging, labeling, and delivery requirements, all to guarantee a fast delivery on a quality product when you place an order with us. Our goal is to get it right the first time and every time thereafter; in fact our commitment to your total satisfaction is what sets us apart from other companies.
Request A Medium Chain Triglycerides SDS From Silver Fern
It's easy to reach our staff when you have questions, need our assistance, or wish to place an order. By phone, reach us at 855-437-2442; use our Web form for greater convenience. Our Quick Product Finder allows you to search for products by names, CAS number, market, or category- we deliver all across the USA and Canada. Read more about our company online and check our news from Silver Fern Chemical in our blog section where you'll find informative articles and content.