MSDS zinc stearate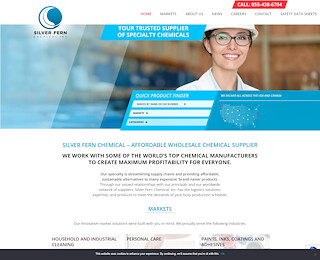 At Silver Fern Chemical Inc., we pride ourselves on providing specialty chemical distribution services, solutions for hard-to-find chemicals, alternative sourcing options, and efficiently moving products around the world. Our expertise spans across various markets, including agriculture, food and pharmaceuticals, heat transfer fluids, household and industrial cleaning, lubricants and metalworking, oil gas and mining, paints inks coatings and adhesives, personal care, plastics and rubber, pulp and paper, textiles, specialty chemical manufacture, and water treatment. With multiple USA stocking locations, logistical excellence, global marketing initiatives, superior customer service, and transparency, we strive to offer the best possible experience for our clients.
One of the specialty chemicals we distribute is Zinc Stearate, a versatile compound with numerous applications. To ensure our clients have a comprehensive understanding of this chemical, we have compiled a list of 10 essential FAQs related to MSDS (Material Safety Data Sheet) Zinc Stearate.
What is Zinc Stearate, and what are its primary uses?
Zinc Stearate is a chemical compound derived from stearic acid and zinc oxide. It is primarily used in the plastics and rubber industry as a lubricant, mold release agent, and stabilizer. Other applications include cosmetics and personal care products, paints, coatings, and inks, textiles, pharmaceuticals, and paper and pulp.
What is the purpose of an MSDS for Zinc Stearate?
The MSDS, or Material Safety Data Sheet, for Zinc Stearate provides essential information on the chemical's properties, hazards, handling, storage, and disposal procedures. It ensures that users have accurate and up-to-date information to safely manage and handle the chemical.
What are the primary health hazards associated with Zinc Stearate?
Exposure to Zinc Stearate may cause skin irritation, eye irritation, and respiratory discomfort if inhaled. However, it is generally considered to have low toxicity.
What personal protective equipment (PPE) should be used when handling Zinc Stearate?
When handling Zinc Stearate, appropriate PPE such as gloves, protective eyewear, and dust masks should be worn to minimize exposure and prevent contact with skin, eyes, and the respiratory system.
How should Zinc Stearate be stored?
Zinc Stearate should be stored in a cool, dry, and well-ventilated area, away from heat, sparks, and open flames.
What should be done in case of accidental ingestion or exposure to Zinc Stearate?
In case of accidental ingestion, seek medical attention immediately. If Zinc Stearate comes in contact with skin or eyes, rinse thoroughly with water. If inhaled, move to fresh air and seek medical attention if necessary.
How should Zinc Stearate be disposed of?
Dispose of Zinc Stearate waste in accordance with local, regional, and national regulations, ensuring responsible waste management practices are followed.
What are the potential environmental impacts of Zinc Stearate?
While Zinc Stearate is not considered highly toxic to aquatic life, it is crucial to manage it responsibly to minimize environmental impact.
Are there any transportation regulations for Zinc Stearate?
As a non-hazardous chemical, Zinc Stearate is not subject to stringent transportation regulations. However, it is essential to ensure proper packaging and labeling during transport to prevent accidents and spills.
How can Silver Fern Chemical Inc. assist with Zinc Stearate needs?
As a leading specialty chemical distributor, Silver Fern Chemical Inc. offers a comprehensive range of Zinc Stearate products and solutions. With our extensive industry knowledge, superior customer service, and logistical expertise, we are committed to meeting our clients' needs for Zinc Stearate and other specialty chemicals.
Contact Us
We encourage you to reach out to us at 855-437-6532 for more information on our offerings and to discuss how we can support your business in finding the right chemical solutions. Trust Silver Fern Chemical Inc. to provide you with high-quality products and the essential information you need to ensure the safe handling, storage, and transportation of Zinc Stearate and other specialty chemicals.
Ask us to view our MSDS zinc stearate sheet.