Octyl Phenol Ethoxylates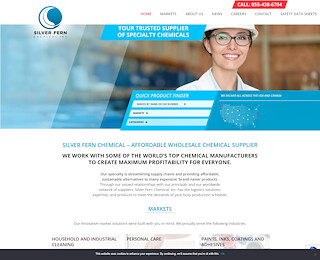 Octyl phenol ethoxylates, OPEs, are a group of chemicals that are much like nonylphenol etholates, NPEs. These chemicals vary in density but are often thick liquids or waxy solids. They vary in color but are usually clear or have a light orange tint. They are used quite greatly in the manufacture of a wide range of products. They are considered necessary ingredients in most primary emulsifier mixtures.
Properties of OPEs
Octyl phenol ethoxylates are used in a number of different types of products. They have properties that include detergency and wetting. They offer excellent hard surface and metal cleaning and have very good emulsification action. They are often used in cleaning compounds made of liquid, paste, and powder. OPEs are also non-biodegradable, their most important downside. They also have the potential to be toxic in water, so they are potentially hazardous to marine life.
OPEs come in various grades. The grades are slightly different in their viscosity. At Silver Fern Chemical we offer OPEs in grades that include OP5, OP8, OP10, OP30, OP30/70, OP40, and OP40/70. There are some substitutes that can be used for OPEs so if you are concerned about safety, talk to one of our representatives to find a suitable replacement.
Uses for Octyl Phenol Ethoxylates
There are many manufacturing uses for OPEs. They are very versatile and are known for their detergent properties. They are used in cleaning compounds and in many other products where emulsification is essential. They are often used in industrial cleaners and are ingredients in emulsion polymerization and stabilizers in latex polymers.
OPEs are available in a variety of HLB values so you can order the precise product that will meet your wetting and dispersing needs. They have a range of degrees of ethoxylation starting with 1.5 up to 40 moles. One of our experienced product sales representatives will be happy to assist you in choosing the specific formulation that meets your requirements.
Silver Fern Chemical
At Silver Fern Chemical we offer a full range of chemicals in a wide option of package sizes for both large and small companies. We specialize in bulk distribution of specialty and industrial chemicals. We pride ourselves in offers excellent customer service with a knowledgeable and friendly staff. We pay close attention to detail to ensure that all aspects of your order are handled properly.
Silver Fern Chemical is part of an international network so we are able to source even difficult to find products. We are also able to help you choose from alternative products whenever possible so you can save money. Many of our products are available in bulk.
We safely ship your products directly to your location from one of our 7 convenient warehouses across North America. Products are provided in a variety of packaging choices such as small bags, super sacks, totes, 55 gallon drums, and palettes. You can purchase your chemicals in wholesale quantities to ensure that you have the materials you need on hand at all times. Call us at Silver Fern Chemical to get answers to your questions and to place an order today.
Octyl Phenol Ethoxylates What is alkyl phenol ethoxylate Octyl phenol ethoxylates information