Phenoxyethanol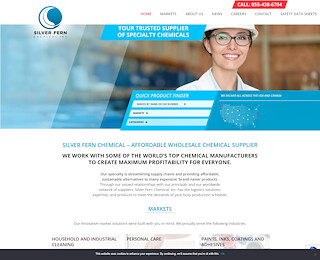 Nothing preserves better than Phenoxyethanol. Silver Fern Chemical Inc. is a leading source of this and other compounds found in everyday cosmetics and personal care products. As a bulk distributor, we help manufacturers produce at costs their clients can afford.
What is Phenoxyethanol?
Preservatives keep your products fresh and storable. Getting on top of the unpredictable nature of demand in the market is what helps companies thrive.
Phenoxyethanol is both a preservative and a stabilizer. This compound is found in soaps, perfumes, eye shadows, foundations, sunscreen, conditioners, and even shaving cream.
The chemical is stable at temperatures over 100 degrees Celsius. It is also 27 percent soluble in water, limiting waste in the manufacturing process.
How can I preserve my cosmetics?
Supply chains need to account for variations in demand. Trends and recessions arise just as an opportunity seems to ripen. The need for beauty supplies is expected to grow by millions of dollars between 2018 and 2025. However, a recession is suspected to hit in 2019.
Predictive models only go so far. Preservatives help keep your investment from spoiling as you ride out downturns. Phenoxyethanol is a key player in this area. Wide adoption proves its power.
Is this chemical safe?
The Food and Drug Administration keeps harmful products from shelves. While a survey of cosmetics found that only 25 percent contained the compound at a rate above 0.6 percent, scientists found no apparent risk of harm.
While many preservatives are carcinogens or must be handled with care, this is not the case for Phenoxyethanol. For most people, use does not pose a risk of injury.
However, as with many chemicals, there is some concern surrounding allergies or skin irritation. A 2015 study found that Doppler ultrasound gel containing Phenoxyethonal caused some skin inflammation. Life-threatening reactions occurred at a rate much lower than with other common compounds found in everything from clothing to food products.
Globally approved preservative
Due to its relative safety, Phenoxyethonal is globally accepted for use in consumer as well as professional products. Bans in Europe made the compound particularly popular among manufacturers.
Manufacturers across the world embrace the stability and safety of this compound. The world embraces this chemical as equivalent to natural compounds with a much lower cost.
Specialty Chemicals in Bulk
Purchasing chemicals in bulk drastically brings down cost. Such purchases allow us to pass on savings on shipping and production to our clients.
Silver Fern Chemical Inc. offers a wide variety of chemicals in bulk. Our compounds are safe for long-distance transport.
Obtaining Phenoxyethonal in the United States
As a leading producer of this key preservative, we offer fast convenient shipping across the country. Whether you receive goods by truck, ship, or rail, we get you the ingredients at a cost that helps you turn a profit.
We pride ourselves in being resourceful, creative, and flexible. There is no customer service problem too large for our experts. Get in touch today to see how Silver Fern Chemical Inc. can help you obtain industrial-strength compounds at competitive rates.