Phenoxyethanol EWG rating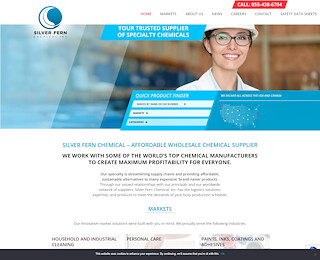 Phenoxyethanol is a versatile preservative commonly used in a wide array of products, including cosmetics, personal care items, and pharmaceuticals. As a reliable provider of specialty chemicals, Silver Fern Chemical Inc. ensures our clients have access to high-quality phenoxyethanol for their unique applications.
To help you make informed decisions, it's important to understand the Environmental Working Group (EWG) rating system and its role in evaluating the safety of phenoxyethanol.
Environmental Working Group (EWG) and its Role
The EWG is a non-profit organization dedicated to empowering people to live healthier lives in a healthier, and more sustainable environment. Their mission is to provide consumers with unbiased information about the ingredients found in everyday products. The EWG rating system is a valuable resource for determining the safety and environmental impact of various chemicals, including phenoxyethanol.
Phenoxyethanol: Properties and Uses
Phenoxyethanol is a glycol ether that functions as an effective preservative in various industries. Its antimicrobial properties help prevent the growth of bacteria, mold, and yeast, prolonging the shelf life of products. In the personal care and cosmetics sectors, phenoxyethanol is often used in products like lotions, creams, and makeup. Its solubility in both water and oil makes it an ideal choice for a range of formulations.
EWG Rating for Phenoxyethanol
The EWG rates phenoxyethanol as a moderate hazard, with a rating of 4 out of 10 (with 10 being the highest hazard). This rating is based on factors such as potential health concerns, environmental impact, and regulatory guidelines. While the rating indicates some potential risks, it's important to note that phenoxyethanol is still considered safer than many other preservatives. Its moderate rating also highlights the need for proper usage and adherence to regulatory guidelines.
Safety and Regulatory Concerns Related to Phenoxyethanol
Phenoxyethanol has been deemed safe for use in cosmetics and personal care products at concentrations up to 1% by regulatory bodies such as the European Union and the United States FDA. However, it is crucial to adhere to these guidelines and ensure that products containing phenoxyethanol are used as intended to minimize any potential risks.
Some individuals may experience skin irritation or allergic reactions when exposed to phenoxyethanol. In such cases, it's important to discontinue use and consult a healthcare professional.
Ask Us About Our Phenoxyethanol EWG Rating at Silver Fern Chemical Inc.
At Silver Fern Chemical Inc., we strive to provide our clients with the best possible solutions and information to make informed decisions. While phenoxyethanol has a moderate EWG rating, it remains a popular and effective preservative in various industries. By understanding the rating system and adhering to safety guidelines, you can continue to utilize phenoxyethanol responsibly in your products.
If you have any questions about phenoxyethanol or need assistance in sourcing high-quality specialty chemicals, don't hesitate to contact us at 855-437-6532. Our dedicated team is here to provide the expertise and support you need to make the right choices for your business. Trust Silver Fern Chemical Inc. to be your partner in navigating the world of specialty chemicals.