Polysorbate 80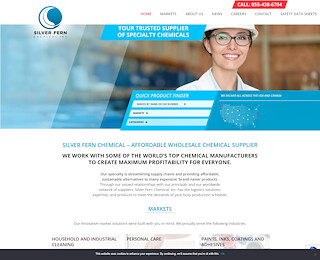 Edible and useful in a variety of non-consumable goods, Polysorbate 80 is a true powerhouse in the manufacturing space. This foaming agent helps products maintain shape while increasing resistance to melting. Silver Fern Chemicals Inc. helps manufacturers create stable products that ride out variations in demand with ease through the supply of critical ingredients such as Polysorbate.
How can I keep my products from melting?
Tackling those long summer days and increasingly warm winters is crucial for any business selling consumable goods. Expiration dates play an important role in pricing and demand. Spoiling products reduce desirability. Preservatives play a key role in your bottom line.
One of the most widely used and safe compounds on the market today is Polysorbate 80. Alongside other chemicals such as Phenoxyethonal or organic preservative, this chemical allows your food products and cosmetics to remain fresh from manufacturing to sale.
How does Polysorbate 80 work?
This compound is derived from compounds granting it incredible stability while remaining safe for consumption. In addition to preserving your goods, the agent also provides a smoother texture.
In addition to use as an emulsifier, this compound also works hard to stabilize medications. Some European and Canadian manufacturers rely on this polyether in influenza vaccines.
Is Polysorbate 80 safe for consumption?
The Food and Drug Administration, as well as much stricter European Union equivalent, recognize Polysorbate as safe for consumption. Side effects are rare. Very few people experienced mild irritation under testing.
Most food producers use the compound in concentrations under 0.5 percent. Cosmetics and other heavily regulated products pass inspection while containing similar levels of the chemical.
The most concerning ingredient in Polysorbate is oleic acid which is derived from naturally occurring vegetable oils. Consumers with allergies experience occasional irritation.
Obtaining chemicals in bulk
A smoother, longer-lasting, and safe product is at your fingertips with Polysorbates. Silver Fern Chemical Inc. provides this key ingredient in bulk.
Whether producing a food product or a cosmetic, we offer to purchase in bulk. This allows us to pass savings on shipping and production to the consumer. Manufacturing of chemicals is a complex process in which costs decline as batch size increases.
Shipping anywhere in the US
Cross country shipping allows us to provide quality to customers anywhere in the country. Whether your process is local or global, we provide by land, air, and sea. Let our experts take care of the logistics problem to drive affordability.
Where can I find Polysorbate 80 in the United States?
Silver Fern Chemicals Inc. is a bulk provider of some of the most important consumer-grade manufacturing chemicals in the country. We use our long-standing relationships with top chemical manufacturers to create a competitive alternative source of high-quality products.
Customized chemical distribution of globally sourced chemicals is our specialty. We provide bulk Polysorbate 80 efficiently and affordably backed by quality customer service.
Get in touch with our agents today to find out how you can obtain this vital compound in bulk throughout North America.