Propylene Carbonate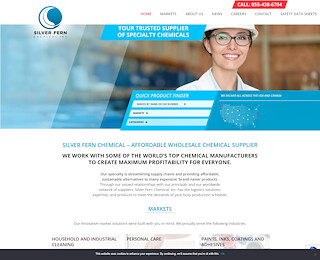 Propylene carbonate or PC is an organic compound derivative of propylene glycol. It is alternatively manufactured from propylene mixed with carbon dioxide. It is available as a clear, odorless liquid. Propylene carbonate works as a solvent in cleaning and degreasing. It is preferred over similar chemicals like acetone and ethyl acetate due to its molecular structure, versatility, soil-stripping properties, and broad compatibility with other solvents. It is used to clean and degrease circuit boards, carburetors, ink cleaners, polymers, resins, and industrial cleanup.
Propylene carbonate is relatively safe to use. Studies indicate that it does not irritate naked skin when handled in cosmetic applications. It has a high boiling point, its vapor is inconsequential, and it is not associated with any toxicities. It is readily biodegradable and has no photochemical reactivity. The absence of these safety concerns means it is not regulated and therefore widely available.
Who We Are
We are a chemical supply company, and propylene carbonate is among the many chemicals in our inventory. Our business is well-established, and our supply chain network is among the best in the world in its class. Our success emanates from offering the best prices without compromising quality or service delivery. Our commitment to excellence is apparent in the quality of our products and our long-term customers' loyalty.
Why Choose Us?
You set yourself up for success when you partner with us. Here's why:
Experience– We have a diverse team of professionals with training in chemical manufacturing, chemistry, supply chain management, procurement, finance, plant operations, and regulatory compliance. We have accumulated experience to understand and predict different market forces, pricing fluctuations, and material availability to have the edge over the operations in the industry.
Safety– As a company dealing with chemicals, safety is our most fundamental concern. All our products come straight from manufacturers, each of whom we have vetted for compliance with quality standards and government regulations. We have strict protocols for handling all material to guarantee occupational health and safety and protect our environment. As part of our due diligence, we are members of the National Association of Chemical Distributors and follow good distribution practices subject to third-party verification. We naturally expect this proactive approach to safety in all our clients.
Distribution Networks– To overcome any foreseeable challenges in distribution, we have invested in an extensive distribution network that covers sea, road, and air. Our partnerships with manufacturers expand each year, so our product lines are simultaneously expanding. We have domestic and international partners in various chemical industries and offer multiple purchase options to our clients. We will satisfy your orders no matter the nature or quantity of material you want.
Customer Service– Our customer service process is what ties everything together. We tested various service models in our formative years and found one that yields maximum customer satisfaction. We have relied on it since, and it has evolved to offer the conveniences that today's technologies make possible. You will access all the necessary information on the supply chain and delivery timeline with each order you place.
Let Silver Fern Chemical Inc. handle your wholesale chemical supply. Contact us at 855-437-5625 to learn how we streamline supply chains and provide affordable, sustainable alternatives to expensive brand name products.
Propylene carbonate nail polish remover
Propylene carbonate solvent