Propylene glycol for sale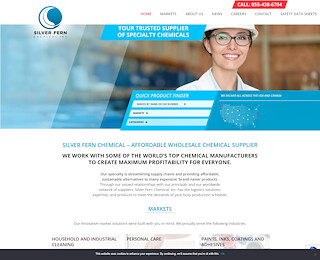 Propylene glycol is a versatile chemical compound with numerous applications in various industries. At Silver Fern Chemical Inc., we specialize in offering high-quality propylene glycol and other specialty chemicals to meet the diverse needs of our clients.
With our extensive experience in the chemical distribution industry, we provide efficient solutions for hard-to-find chemicals and alternative sourcing options, ensuring our clients receive the best products and services possible.
Different Grades of Propylene Glycol
Understanding the different grades of propylene glycol is crucial in choosing the appropriate product for your specific needs. We offer a range of propylene glycol grades, including industrial, USP (United States Pharmacopeia), food, and analytical grades.
Each grade has its unique properties and applications, catering to industries such as agriculture, food and pharmaceuticals, heat transfer fluids, household and industrial cleaning, lubricants and metalworking, oil gas and mining, paints, inks, coatings and adhesives, personal care, plastics and rubber, pulp and paper, textiles, specialty chemical manufacture, and water treatment.
Forms and Packaging Options
At Silver Fern Chemical Inc., we understand that our clients have diverse requirements when it comes to propylene glycol forms and packaging. That's why we offer various forms, including liquid propylene glycol, propylene glycol powder, and pre-diluted solutions.
Additionally, we provide bulk purchase options for larger-scale needs and smaller packaging for clients with limited requirements. Our multiple USA stocking locations and logistical excellence ensure that our products are efficiently moved around the world, reaching our clients quickly and securely.
Pricing and Market Trends
We are committed to offering competitive prices and staying up-to-date with market trends. Our global marketing initiatives allow us to remain aware of factors influencing propylene glycol prices, regional price differences, and future projections. By staying informed, we can offer valuable insights and recommendations to our clients, helping them make informed decisions when purchasing propylene glycol or other specialty chemicals.
Selecting a Reputable Supplier
Choosing a reputable supplier is critical in ensuring the quality and reliability of the propylene glycol you purchase. At Silver Fern Chemical Inc., we pride ourselves on our superior customer service, transparency, and commitment to quality. Our certifications and accreditations attest to our dedication to providing the highest quality propylene glycol and other specialty chemicals.
Regulations & Compliance
As a responsible chemical distributor, we understand the importance of adhering to international regulations and country-specific guidelines. We are well-versed in the environmental and safety considerations associated with propylene glycol and other specialty chemicals, ensuring that our products are handled, stored, and transported according to the highest industry standards.
Contact Us to Buy Propylene Glycol for Sale
At Silver Fern Chemical Inc., we are dedicated to offering the highest quality propylene glycol for sale and exceptional customer service. Our expertise in the chemical distribution industry, combined with our commitment to transparency and logistical excellence, ensures that our clients receive the best products and solutions to meet their unique needs.
If you're in search of propylene glycol or any other specialty chemicals, don't hesitate to contact us at 855-437-6532 to learn more about how we can help you meet your chemical needs.