Tert butyl acetate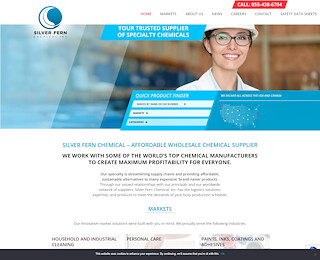 Why Buy Your Tert Butyl Acetate From Silver Ferm Chemical:
There are numerous reasons why we recommend purchasing your chemicals from our company. One of the biggest factors in placing an order for Tert Butyl Acetate is whether the product you receive will be of the highest quality. When you order from our warehouse, you're guaranteed a top quality product. Click on our 'Why Silver Fern Chemical Inc' link to see why we are trusted by so many corporations across the globe. We promise a superior customer service when you contact us, and we pay close attention to the details, so that you'll receive the right product the first time.
At Silver Fern Chemical, we fully understand the needs of our clients to have access to chemicals when needed. Our company is dedicated to logistical excellence to get your product to you quickly, safely and efficiently, whether that means by rail, truck, or air. Our multiple US locations allow us to ship from the closest warehouse to each customer. In some cases, that means positioning particular products in nearby warehouses to ensure our clients have steady-stream access to the products they need.
Tert Butyl Acetate falls under the classification of a hazardous chemical, and as such, is classified as a flammable liquid in accordance with 29 CFR 1920 OSHA HCS and regulation EC No. 1272/2008. This product is highly flammable as a liquid and vapor and comes with the following warnings: Keep away from heat, sparks, open flames and hot surfaces; no smoking around this product; keep container tightly closed; ground and bond container and receiving equipment; use explosion-proof electrical, ventilating, lighting and mixing equipment. You can see a complete list of this product's warnings when you visit our Silver Fern Chemical Inc Site and type ' Tert Butyl Acetate' into the search bar.
As one of our most commonly purchased products, Tert Butyl Acetate has unique physical and chemical properties, making it highly sought after by many manufacturers. Its appearance is clear and colorless as both a liquid and a vapor. While it's readily biodegradable, it's not recommended that this product be allowed to fun into surface waters, wastewater, or soil.
Tert Butyl Acetate is an ideal ingredient for the making of solvents, particularly in lacquers, inks, adhesives, enamels, thinners, and industrial strength cleaners. Of particular interest to manufacturers is TBA's recent status upgrade from the EPA to that of VOC exempt. Being able to manufacture and sell a product with no VOCs is a huge asset as consumers turn to green alternatives in the marketplace.
Our Tert Butyl Acetate is available in 55 gallon drums and in bulk amounts. Feel free to give us a call at 866-282-3384 if you have any questions about the product or if you'd like to discuss setting up a purchasing account with us. You can request a quote for Tert Butyl Acetate over our website or by phone.