Chemical distributor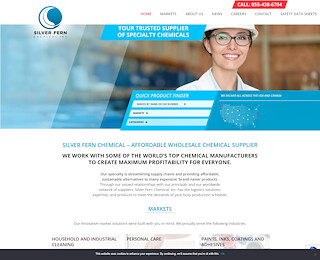 As one of the largest chemical distributor agencies in the US, Silver Fern Chemical continues to serve their clients by bringing them the latest innovative products available today. If you're currently searching for a new chemical distributor, we invite you to see why more companies rely on the consistent products, pricing and delivery from SFC. We're certain you'll find them a company able to meet your needs.
Silver Fern Chemical carries products for a wide range of industries, having products in their impressive inventory that are indispensable for:
– Agriculture
– Food and Pharmaceutical
– Heat Transfer
– Household and Industrial Cleaning
– Lubricants and Metal Working
– Personal Care
– Paints, Coatings, Adhesives and Inks
– Plastics & Rubber
– Textiles, Pulp & Paper
– The Manufacture of Specialty Chemicals
– Water Treatment
Shop for Acids and Acidulants, Inorganic chemicals, Additives and intermediates, Inorganic chemicals, Solvents, Monomers, Oleochemicals and Fatty acids, Surfactants, Amines, Glycols and Glycol ethers, Nutritional, Resin chemistry and more. SFC has a strong US presence, with warehouses in Seattle, Washington, Savannah, Georgia, Houston, Texas, Goldsboro, North Carolina, Chino, California, Chicago, Illinois, Piscataway, New Jersey, and Vancouver, British Columbia.
If you have a recurring need for a particular chemical that you find to be difficult to locate when you ned it, Silver Fern Chemical will be happy to position that chemical at a warehouse location that is convenient to your facility to ensure that it's handy before you run out. Logistics is of the highest concern when you place an order with Silver Fern Chemical- for this reason you can rest easy knowing that your product will arrive safely and on time- every time.
Contact a chemical distributer specialist from Silver Fern Chemical to discuss your needs and let a knowledgeable agent answer any questions you may have, or address any concerns before you place your order. Feel free to browse the online inventory located on the SilverFernChemical.com website. Simply type in the product you're looking for, or select by market, category, product line or top sellers. You're sure to find what you're looking for.
Silver Fern Chemical supplies the Agriculture industry with various specialty chemicals ranging from a vast inventory of acids and bases to surfactants and adjuvants. Companies in the manufacture of organic insect repellants commonly turn to Clove Leaf Oil as an ingredients that is an excellent alternative to more harmful chemicals. You may find the more and more of your customers are becoming interested in organic and natural products- contact Silver Fern Chemical to assist you in loading the most eco-friendly chemicals available today.
Whether you're a small company or a large Fortune 500 corporation, Silver Fern Chemical is able to help you find the right product in the right amount. If you don't see what you need on the website, feel free to contact a chemical distributor agent at 866-282-3384 to request some assistance. You'll find more information located on the SilverFernChemical.com website, as well as a convenient contact form to request additional information on any product.