Glycol Ether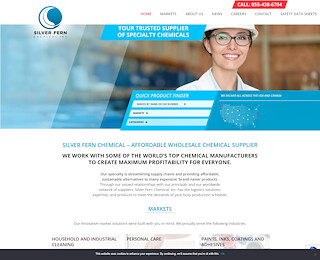 Are you searching for a supplier of Glycol Ether? Silver Fern Chemicals carries a wide range of Glycol Ethers for your manufacturing needs. If you're currently not satisfied with your supplier or are searching for better prices or more convenient logistics, we invite you to see why Silver Fern Chemical has become one of the leading suppliers in the industry.
SFC carries the following Glycol Ether:
– Glycol Ether DPM Acetate, having a low viscosity, making it a good viscosity control agent for your products. As a potent solvent with a moderate evaporation rate, Glycol Ether DPM Acetate has a good coalescing ability, making it an ideal additive to silk screen printing inks.
– Glycol Ether EB Acetate, miscible with most organic solvents, this is a popular additive as it is partially soluble in water. As a printing ink and surface coating solvent, it's an affordable additive and can even be used as a solvent for both natural and synthetic resins.
– Glycol Ether PM, one of the fastest evaporating solvents available, is an ideal additive to coating and cleaning applications. Due to its greater viscosity reduction characteristics than heavier molecular weight GEs, it serves in epoxy and high solids acrylic systems in a more effective way.
– Glycol Ether PPH, a slower evaporating glycol ether with a heavier molecular weight, makes it the perfect additive for phenolic linings and coatings, as well as acrylic-based latexes. Use Glycol Ether PPH in your dyeing products as a dye stabilizer and carrier, for ink in your felt tip and ball point pens, in stamp pads and printing pastes. Visit SilverFernChemicals.com to see the full list of uses for Glycol Ether PPH.
– Glycol Ether DB, commonly found in floor cleaners, floor wax strippers, floor finishes, spray cleaners, paint removers, penetrating oils and metal cleaners, one of the most heavily relied on chemicals for the cleaning industry, is affordable from Silver Fern Chemical. Purchase from the website in 55 gallon drums, or contact an agent from SFC by calling 866-282-3384 with your custom order.
– Glycol Ether DE Acetate, a colorless, hygroscopic liquid, soluble in water and used as a coalescing aid through the addition to latex paints, also as a solvent in printing inks. Silver Fern Chemical supplies Glycol Ether DE Acetate as a urethane grade solvent.
Silver Fern Chemical also carries the following Glycol Ether: DPNB, EE Acetate, PM Acetate, DB Acetate, DM, DPNP, EEP, PNB, DE, DPM, EB, EP, EPh, PNP, and others. Feel free to contact the company if you don't see the product you need on the website. A specialist will be happy to help you locate the right product for your particular needs and will see that it is made available to you in the appropriate quantity.
If you require a Glycol Ether product on a frequent basis but have a difficult time obtaining it when needed, Silver Fern Chemical can ensure it is positioned in a nearby warehouse to ensure you'll have access to its supply whenever necessary. Call 866-282-3384 for more information.