Chlorophosphate for sale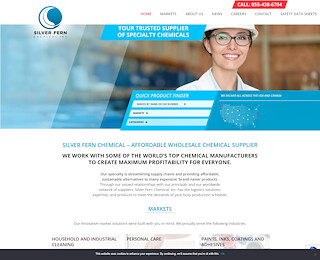 Silver Fern Chemical Inc. is a leading specialty chemical distributor that offers a wide range of products and services. We specialize in providing hard-to-find chemicals, alternative sourcing options, and efficient logistics to move products around the world.
Our expertise spans various markets, including agriculture, food and pharmaceutical, heat transfer fluids, household and industrial cleaning, lubricants and metalworking, oil gas and mining, paints inks coatings and adhesives, personal care, plastics and rubber, pulp and paper, textiles, specialty chemical manufacture, and water treatment.
With multiple stocking locations across the USA, logistical excellence, global marketing initiatives, superior customer service, and a commitment to transparency, we strive to meet our clients' diverse needs.
If you are looking for Chlorophosphate for sale or trischloropropyl phosphate, contact Silver Fern Chemical Inc.
7 Reasons to Buy Chlorophosphate from Us
Extensive Product Range: We offer a broad range of specialty chemicals, including chlorophosphate (tris(chloropropyl) phosphate), a versatile flame retardant suitable for various applications and industries.
Hard-to-Find Chemicals: We specialize in sourcing hard-to-find chemicals, ensuring that you have access to the products you need for your specific applications.
Alternative Sourcing Options: Our alternative sourcing options provide you with the flexibility to choose the best product and supplier for your needs, helping you save time and resources.
Efficient Logistics: Our efficient logistics network ensures that your products are delivered on time and in the best possible condition.
Exceptional Customer Service: Our team of dedicated professionals is committed to providing superior customer service and support throughout the purchasing process, ensuring that your experience with us is seamless and hassle-free.
Transparency: We believe in maintaining transparency in all our dealings, so you can trust that the information we provide is accurate and up-to-date.
Industry Expertise: With extensive knowledge of various markets and industries, we can help you find the right product for your specific application, ensuring optimal performance and results.
Basic Information About Chlorophosphate
Chlorophosphate, also known as tris(chloropropyl) phosphate, is a flame retardant used in a variety of applications. It is a colorless, viscous liquid that can be mixed with base materials or applied as a coating or additive to improve their flame resistance. Some common industries where chlorophosphate is used include plastics and rubber, textiles, foam, and electronics.
5 Points You Should Consider Before Buying Trischloropropyl Phosphate
Tris(chloropropyl) phosphate (TCPP) is an organophosphate compound commonly used as a flame retardant in various materials and products. If you have questions about TCPP, consider the following topics:
Chemical Structure and Properties: What is the chemical structure of TCPP, and what are its key physical and chemical properties, such as molecular weight, melting point, and boiling point?
Production and Synthesis: How is TCPP synthesized, and what are the main industrial processes involved in its production?
Applications and Uses: In which products and materials is TCPP commonly used as a flame retardant? What are the advantages of using TCPP over other flame retardants?
Health and Environmental Impacts: What are the potential health and environmental effects of TCPP exposure, and what precautions should be taken when handling the compound?
Regulations and Guidelines: What are the current regulations and guidelines surrounding the use of TCPP as a flame retardant, and how do these vary by region or country?
Contact us for Trischloropropyl Phosphate or Chlorophosphate for Sale
At Silver Fern Chemical Inc., we are dedicated to providing our clients with high-quality specialty chemicals, including chlorophosphate, and exceptional service. If you are looking for a reliable supplier of flame retardants, look no further than Silver Fern Chemical Inc.
Contact us today at 855-437-6532 to discuss your specific needs and learn how we can help you find the right solution for your application.